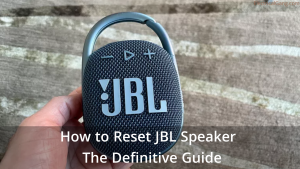 When your JBL speaker has trouble charging, pairing, battery drain, etc., resetting your speaker may be a common suggestion. The reason for doing so may be that something went wrong, such as a bug or a change in setting. But how to reset the JBL speaker is not very clear anywhere. So how do you do that?
To reset your JBL speaker, you may need to hold down the volume up and play buttons, depending on the specific JBL speaker model, such as the JBL Flip 5. Other JBL models may require different or similar steps. If you are not sure, you can also set up your JBL speaker using the user guide that comes with the speaker.
We will see in full detail how you can reset your specific JBL speaker model. In today's article, we will see how to reset the JBL speaker.
How to Reset JBL Speaker?
Quick Answer:
To reset the speaker it is necessary to turn it on first. So turn it on first. Now press and hold the + and Bluetooth buttons together until you see a light. Now wait for your speaker to turn off. The sound you hear when you turn off the speaker will be heard. This means that your JBL speaker has been reset successfully. Turn it on to check.
Why Might You Need to Reset Your JBL Speaker?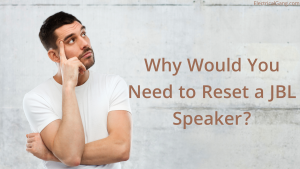 In today's modern age, the speaker does more than just produce sound; This speaker can be connected to your smartphone or other devices like Bluetooth or WiFi-enabled devices. For example, you probably know about smart speakers and how advanced they are.
But even the most simple speaker runs under the hood more than you might think. For example, the wireless speaker has to show the user how much the battery is full and when to charge it.
Battery problems are the area where a reset can fix the problem. Such as speed battery drainage or a device that is refusing to charge. If you also have this problem, then resetting is usually one of the first things to try. You may want to reset the speaker in order to resolve the issue properly through a modified setting or a software bug.
In addition, soft-brick is possible for the speaker. This is a term used for a device that becomes unusable but can be restored by conventional means. By resetting the device in such a case. This hard brick device is different and becomes useless. But cannot be restored by conventional means.
Suggested Read: Blink Camera Not Recording | Here's How to Fix It!
How to Reset a JBL Speaker: A Guide for Beginners:
Resetting a JBL speaker is very easy, even if you don't see it, without looking at the manual or any kind of research online. Normally you have to hold down two buttons. One is volume, and the other is something like Bluetooth or the Pause/Play button.
It is not clear why reset instructions are not universal in all models. But that's how it is. We will show you in the next section how you can reset all models of JBL speakers.
How to Factory Reset a JBL Charge Speaker: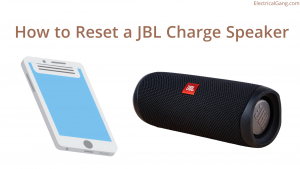 The JBL Charge is an excellent speaker with excellent sound and long life. Perfect for an all-night party and camp. It also doubles as a battery bank to boost your other device when there is low interest. To reset the JBL charge, hold the volume up and Bluetooth buttons at the same time until the light rings while the device is on.
How to Renew a JBL Flip Speaker:
The JBL Flip is a mid-range speaker. It offers the perfect balance of affordability and stunning sound quality. It is not too big in size, making it possible to carry in any bag. This is a common speaker for the people of the part.
Resetting the JBL Flip is easy. Hold down the volume and play buttons while the system is running for about 5 seconds. The device will then shut down and restart. The speaker will then be restored to its factory settings.
How to Troubleshoot a JBL Link Speaker:
JBL Link Speaker is WiFi enabled with Google Assistant. That's why it's almost like smart speakers like Google Nest Mini and Google Nest Audio. But the advantage of buying a link over it is that JBL has expertise in audio quality.
Turn on the device to reset JBL links 10 and 20 and hold down the mute button for 15 sec. The device will then turn off the power, and that's all for it. The factory will be restored when you restart the speaker.
Suggested Read: Prime Video Not Working on Roku | Here's How to Fix It
JBL Go Speaker Reset Tips and Tricks:
The JBL Go is a small speaker, which means it is very portable. It's also the cheapest of JBL's wireless speakers, and you can usually choose one for less than $ 40 with a carrying case. Turn on your device to reset JBL Go. Hold down both the volume down button and the Bluetooth button for 5 seconds.
How to Factory Reset a JBL Xtreme Speaker:
JBL XStream is a huge JBL flip with more powerful audio quality. It is best for the outside environment as its sound carries a great distance. You need to turn on the device to reset this speaker and hold the volume up and play buttons for 5 sec.
How to Factory Reset a JBL Clip Speaker:
While the JBL Go is smaller, the JBL Clip is an even smaller speaker. As its name suggests, you need to clip the speaker onto a bag or anything else. It takes up very little space when used in this way. It is best suited for outdoor activities like hiking. To reset the JBL clip, turn on the device and hold down the play/pause button and power button for 30 seconds.
When Resetting Your Device Doesn't Fix the Problem, Try These Tips!
If you are trying to reset your speaker due to any problem, and even after doing so, the solution does not come. So here are some things you can try when solving a common problem:
The speaker doesn't charge: things to know:
The first thing you need to do is try a different cable when no device is charging. It is cliche, but the cable may be damaged, or it may stop working. In addition, if someone has tried a different power outlet, it will help.
The speaker isn't responding:
You can easily solve this problem. Suppose your speaker cannot be connected to your phone or any other device. So make sure your device's Bluetooth is on. Next, there should be a Bluetooth pairing menu in the settings on your device. Put the speaker in pairing mode, and your device should recognize it. One thing you should note is that your older devices may not be compatible with the more recent Bluetooth speakers.
The speaker is dying quickly: a painful goodbye:
The battery life announced on your speaker is technically correct. But it's a bit misleading. While the battery life of the speaker is announced to be 12 hours. Then it is for low rating volume. If you want to turn on the volume at a higher setting, the battery will run out faster.
Suggested Read: Roku Keeps Freezing and Restarting? | Here's How to Fix It!
The speaker's audio quality is not good:
There is probably nothing wrong with this speaker. However, it is worth noting that if you stress the speaker at a high volume, the sound quality will deteriorate for a long time. That way, if you have an old speaker, it is likely that it needs to be replaced. You should also check the audio setting on the device with which you have connected it; The speaker emits what it is called.
Bluetooth Pairing Problems:
If your speakers have a pairing problem, a reset should be able to resolve them. However, before you reset, you should try unpairing, forgetting, and reconnecting Bluetooth devices if it doesn't work. So now you can try resetting the speaker.
If the speaker still does not connect. Then check if your audio device, such as your smartphone and computer's Bluetooth, is on. If the device you are connecting your speaker to is an older Bluetooth model, the connection may not be possible. JBL's speakers currently on the market have the latest Bluetooth version, which may fail to connect to older versions of Bluetooth.
Speaker Not Turning On:
If your speaker fails to power on, it may have a charging problem. The speaker does not charge, or the speaker's battery may be damaged. There may also be a problem with the power button. For speakers that do not turn on, you need to take them to a technician or a nearby service center.
Unknown Device Paired:
If your Bluetooth speaker is inadvertently connected to a device, it does not connect to another device. So resetting it can solve your problem. If it still does not pair with other devices, you need to reset the device.
Most Commonly Asked Questions:
How do I reset my JBL speaker 4?
Turn on Speaker.
Press Play and Volume+ Button Together.
Press the Power Button.
JBL Flip 4 Reset Complete.
How do you reset a JBL Flip?
Power on your device.
Press and hold the play and the volume + buttons at the same time.
Maintain this position for about 5 secs.
The device will power off as it restores to the factory default.
Power on your Flip 5 again, and it will have restored to the factory default.
Where is the reset button on my Bluetooth speaker?
The device's control area (often under a rubber flap) is a small pinhole button labeled "Reset." Use a pencil or other sharp object to press this button. Hold down both the power and "volume down" buttons for about 6 seconds until you hear the device power off.
Why is my JBL speaker not working?
If you hold down the Bluetooth and volume down buttons for 5 sec, you can reset the speaker on JBL. To reset the JBL charge, hold the play pause and volume up buttons until you see the power button flashing. If this does not solve your problem, then there is a hardware problem with the speaker.
Like this post? Could you share it with your friends?
Suggested Read –